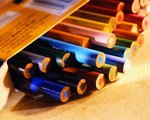 Money for our classrooms from RMGC & the General Store
General Store receipts...
We are continuing to collect General Store receipts. Please send your General Store receipts to school with your children. As our partner in education, RMGC gives the schools 1% of the total from the collected receipts. We use the monies we receive for such things as; books, classroom supplies, art supplies, curriculum supplies, "Happy Slip" incentive prizes, reward "dog tags", yellow homework folders, and $100.00 for each teacher to spend on supplies and learning materials for their classrooms. If not for the receipt money we would not be able to afford these things for our students.
With the State budget crunch, we really need this extra money more than ever, so please save up your receipts, and send them to school. If you don't have children in school, but would still like to support us, you may bring your receipts to the Elementary office or drop them in the metal box in the foyer of the General Store.
THANK YOU FOR YOUR SUPPORT!